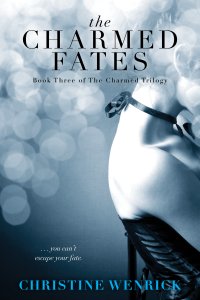 To celebrate the upcoming release of the final book in The Charmed Trilogy, The Charmed Fates, I thought I would give you the fans of the series a teaser into the book with one of my absolute favorite secondary characters to write, shape-shifter Kane. See what this fun-loving, supernatural troublemaker is up to now!
Enjoy,
Christine Wenrick
"Easy darlin'," Kane drawled as I continued to pull him out of the dining hall, Lucas following right behind and laughing under his breath. "If you needed me that badly, all you had to do was ask."
Swinging him around to a stop, I could only imagine the incredulous expression on my face. "Are you for real? I'm mated, Kane!"
His eyes scanned the space around him as if he hoped to discover something vitally important. "What? Did you bring the vamp with you?"
"No, I didn't bring him with me," I replied with exasperation, slapping his upper arm hard enough so that it should hurt him, should being the operative word.
But instead he shrugged his shoulders with ease as his hands reached for each side of my hip. "Then we've got no problem here."
As my mouth fell open, Lucas sighed and stepped between us. "Give it a rest, Casanova. Olivia's trying to save the virtue of the woman you were just busting-a-move on thirty seconds ago . . . you know, the strawberry-blond."
A wide, predatory grin, that so resembled the nature of his jaguar half, crept over Kane's lips. "She is a beauty, isn't she? Lord, I may need saving by the time I'm done nibbling on that lovely creature."
"Unbelievable," I blinked back at him. "I didn't think men like you really existed."
Kane splayed his arms out from his sides with an easy smile. "In the flesh, darlin' . . . in the flesh."
The Charmed Fates, Available at Amazon and Smashwords, March 1st 2013