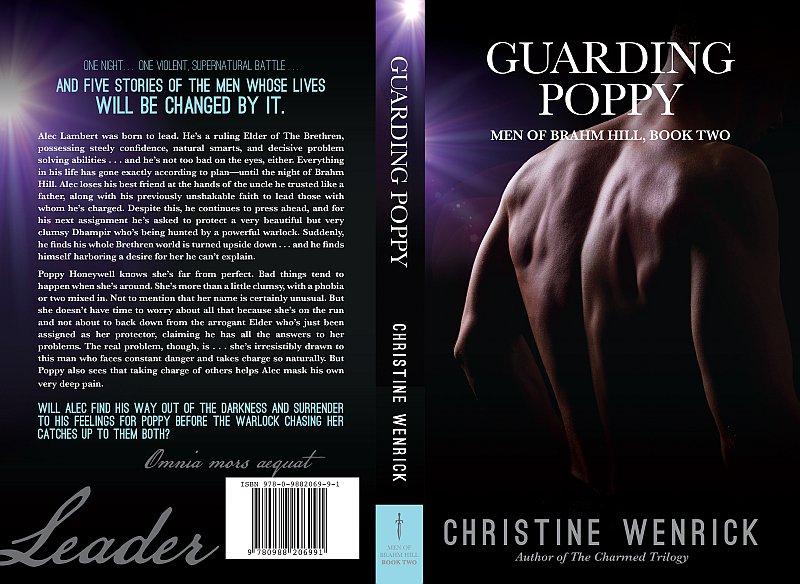 Guarding Poppy – Book two of The Men of Brahm Hill Series.
One night. . . One violent supernatural battle
And five stories of the men whose lives
will be changed by it.
Excerpt
"Why. Am. I. On. A. Plane?" Poppy emphasized each word as her hands gripped at the luxurious sofa arm beside her. But the modern jet seemed determined to bounce all of them out of their seats as the cabin continued to jostle about angrily. They were definitely in the middle of some mean turbulence, which was to be expected of anyone fool enough to be flying in a small plane in winter conditions.
"Because it's the most efficient way to get someone across an ocean," Alec answered. "We still have about an hour or so before we land. So you're going to have to let me know if you're going to panic on me."
Her gaze narrowed on him angrily as she pushed her next breath through her nostrils. "Can I just hit you instead and we'll call it even?!"
His brow lifted as if he found that comment interesting.
Poppy leapt to her feet inside the small cabin and she noticed Alec braced his hands against his chair arm as if to steady himself. Surely he didn't think she was really going to hit him? "You're not going to trip again, are you?" he asked here.
Poppy glared at him and then down at herself. She was looking for any reasonable explanation to defend the innate clumsiness he'd gotten to experience firsthand within the first minute of meeting her in Joseph's study. "These are very challenging heels!"
Yep. That was the best she could come up with.
The Elder smiled. No, it was definitely more of a smirk. "I'm sure they are," he replied. "Now, will you please sit down before you get bounced off your feet? The turbulence may get worse before it gets better."
"Worse?" Poppy squeaked. She might very well end up back in his lap if this turbulence got any worse. She didn't like to think of herself as a coward, but when it came to flying she definitely was, even more so than her irrational fear of spiders. They just had to many legs! "Look—you need to understand. I don't fly! Ever . . .! You need to find a way to land this plane right now!"
"I can't do that. As I exclaimed, we're over a lake."
"Well get un-over the lake!"
The Elder didn't say anything in response, just seemed to contemplate that. He removed the reading glasses. They were a dead giveaway that he was human, though, he looked fit enough to give even his Dhampir guards a run for their money. He'd certainly felt fit enough when she had crash-landed into his chest in Joseph's study . . . which had been utterly embarrassing. "In an effort to have us all on the ground safely as soon as possible, I do not recommend suddenly veering off course to get 'un-over' a lake. We will be starting our descent shortly."
"Oh God, descent . . .," she mumbled to herself as she rubbed her hands over her face. "This is not good. This is not good."
"It will be over—"
"Where are we landing . . . Elder Lambert?" she added awkwardly, realizing they had not actually exchanged first names.
He returned his glassed to the bridge of his nose and went back to looking at his tablet. "You may call me Alec. I much prefer it to Elder Lambert. We'll be landing in Alberta at The Oracle, The Brethren site I'm in charge of. After discussing it, Joseph and I felt this would be the best place for you to stay."
"Well, isn't that nice," she answered him flippantly. "You discussed it. By any chance—in any of this heavy dialogue—did anyone consider asking me if I wanted to go to Canada?"
Alec just sighed in that 'you're going to cause me a lot of trouble, aren't you' sort of way.
Guarding Poppy is available now on Amazon, Smashwords, BN.com and the iBookstore.
Guarding Poppy is available in paperback on Amazon and CreateSpace.